Wednesday, June 24, 2009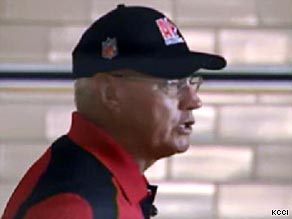 Ed Thomas, the football coach of Aplington-Parkersburg High School in Iowa, was
shot to death
in the school's weight room this morning in front of students. A suspect is in custody, but no one is commenting on who it is (except to say it's an adult) or what happened. "Crisis Counselors" are reported to be at the school working with the witnesses.
Before commenting, a disclaimer: the Quarterback is not there, doesn't know Ed Thomas and doesn't work for the Aplington-Parkersburg schools. I am acquainted with some folks high up in CISM response for the state of Iowa, and know that they have a pretty well organized structure. Also, this story is only about two hours old as I write this, and by the time you read it more facts may be public. If so, I will try to update the Quarterback site so this post remains relevant.
As you may know, responding to just this kind of situation is what the Quarterback does and is passionate about. So I thought it might be instructive to walk through what I would be thinking about and doing if I were in charge.
As my regular readers know, in Critical Incident Stress Management we talk about the 5 T's: Trauma, Target, Timing, Theme and Team. Let's walk those through:
Trauma:
This is fairly straightforward -- a beloved coach was shot in sight of students. Whoever is heading up the response is going to want to get as much detail as possible about what happened, and I guarantee that there is more detail to be had than what is in news reports at this point. Some questions to ask: Do we know who the shooter is and/or what the motive might be? Did the witnesses know the shooter? What did he say? Who tried to help the coach? Who called the police? How were parents notified?
Target:
First, a reminder -- we're responding to people's
reactions
to the incident, not to the incident itself. So we can sketch out who may need help and what might be appropriate, but we won't know if we're right until we find out how people are reacting.
In the center of the circle are the people who were in the room with the coach when he was shot. Most likely, we'll be wanting to do a Defusing (a.k.a. Immediate Small Group Support) for these folks, depending on how many there are. This is a process whereby they get to briefly talk about what happened and the team will give them information on what kind of stress reactions they might experience and how they can best take care of themselves.
Someone needs to be assigned exclusively to the family and will be doing Defusings and one-to-one intervention.

Next out, we may need to do a Defusing with first responders, depending on how awful the scene was.
We will probably also want to Defuse the staff who were in the building.
Now it's time to deal with the rest of the community. It's time for a Crisis Management Briefing. A member of the team will M.C. The Principal will welcome everyone, the police will state the facts and the state of the investigation, and the team will educate folks on traumatic stress reactions, and then hang around afterwards to talk to anyone who needs individual support.
Throughout this all, we are assessing, assessing, assessing: Who seems to be in the worst shape? What resources do they have for recovery? What more do they need? Based on the answers to that, we will be doing a lot of individual crisis intervention and may well schedule a Critical Incident Stress Debriefing for those towards the center of the circle.
Timing:
Nothing should be done until after every kid in that building has talked to a parent. That need for safety trumps everything else. Hopefully the police will cooperate with the team in allowing Defusings to happen as fast as possible, which means they need to get their interviews done ASAP. On the other hand, I would not send the kids home before a Defusing. They need some resources under their belt to deal with the rest of today and the days ahead, and they will not come back later. The Crisis Management Briefing should probably be tonight if they can get the word out. The Critical Incident Stress Debriefing will depend a lot on the schedule of events, e.g. when the funeral and visitation are. It could be as early as tomorrow and should be no later than the day after the funeral.
Theme:
Three big things are going to come up, particularly for the kids in the room when it happened. 1) I should have stopped him. 2) I thought he was going to come after me next and I do not feel safe now and 3) This town was devastated by a tornado last year and now this. Trauma always brings up trauma -- it causes you to open up the same file drawer in your mind and out comes everything else. Folks may well still be fragile from the tornado, so reactions are going to come harder and faster for this.
Team:
Everyone responding needs to be trained in CISM. School counselors and social workers are often wonderful, talented, fabulous clinicians, but they do not generally have training in early crisis intervention. The tendency if you are in mental health but don't have this training is to start down the road towards therapy, and now is not the time for that. If this were my response, I would want to send in (presuming we have the personnel) CISM trained counselors, social workers and/or psychologists who work in schools, a CISM trained Principal and teacher, and whoever is CISM trained who the kids feel the most comfortable with, if it's not the folks above.
God bless the folks in this town. I hope they get the best CISM response in the history of the world.
Meet the Quarterback
Naomi Zikmund-Fisher

is a clinical social worker, former school Principal and a Crisis Consultant for schools and community organizations. You can learn more about her at www.SchoolCrisisConsultant.com
View my complete profile

Contact the Quarterback

Blog Archive