Saturday, July 4, 2009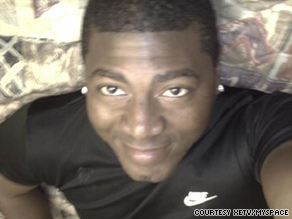 Update: The Quarterback has been updating this story as it unfolds. Take a look at what's happened since this post was written.
If the name August Provost doesn't ring a bell, don't feel bad.
News of his death
this past Tuesday hasn't made the New York Times yet. It just hit CNN today. We can't all be Michael Jackson.
Seaman August Provost was murdered at Camp Pendleton in California while he stood sentry. He was shot and the area set on fire, apparently in an attempt to cover up the evidence. The Quarterback just did some digging to find out how common homicide is in the armed forces, and hence how newsworthy this sort of thing should be. In 2007, the latest year I could find statistics for, there were
42 homicides in the military
. That comes out to a rate of about 3.06 per 100,000. In the United States in 2007, the homicide rate was
5.9 per 100,000
. So murder in the military is less common than in the general population, but still not unheard of.
What makes Seaman Provost's death particularly interesting is that he was an African-American bisexual man serving in the United States Navy, and he had apparently complained to his family that he was being harassed. They told him to tell his supervisors, and not surprisingly, given that he would be discharged for telling a supervisor he was bisexual, he did not. So now his family wants to know whether his death was related to either his race or his sexual orientation.
The Navy says that as far as they can tell, the answer is no. They have someone in custody, but no one has been charged. The Navy spokesperson said,
What I can tell you, unequivocally at this point, based on the preliminary information that we have, is that regardless of the person standing watch in that sentry station, this crime would have most likely been carried out in the same way. In other words, another sailor could have been on that post and would have been the victim of this crime.
Now throw in another wrinkle: California Congressman Bob Filner was at Camp Pendleton on Wednesday after the body was found, and no one told him. He sat next to the Commander at an event and wasn't told. The base has a daytime population of about 100,000, so this probably happens about 3 times a year. If you were the mayor of a town of 100,000 with a homicide rate of 3 per 100,000, and your local Congressman came by just after a body had been found in your town, would you tell him? I don't know.
But let's be real here. This is news because Don't Ask Don't Tell and the issue of gays serving openly in the military is in the news right now. A cover up would be a very big deal. A hate crime would be a very big deal. So the reporters have gotten wind of it and are starting to write stories.
From a crisis response standpoint, we have here what we like to call, in technical parlance, a "mess." Let's tally up the factors. We have:
A homicide, which is traumatic if you were close to the deceased whether or not you witnessed it or found the body
A homicide far away from home (Seaman Provost is from Texas), adding to the family's feelings of helplessness that are already endemic to a homicide
An ongoing investigation, making people feel reluctant to talk to critical incident personnel on the one hand, even though it's confidential, and making people want to talk about the investigation instead of the event on the other hand
Blame being thrown around, making it hard to feel like the event is "over," especially given the ongoing investigation
A politician involved, adding to the stress on all involved even if he's actually doing good
Media coverage, meaning the event is being replayed for the family and friends
Media coverage that came slowly, often making people feel like they didn't get the attention they deserved
One group accusing another of indifference at best and a coverup at worst, making it even more critically important that responders don't mix up the two groups
The other group gently saying that the first group is wrong, making anger at each other a major theme of the healing process
And keep in mind, it's only Saturday. Seaman Provost was killed Tuesday night. If you think things are going to get less complicated from here on out, you are probably sadly mistaken.
It's Independence Day, a day to celebrate our country. So the Quarterback would like to take this opportunity to honor Seaman August Pendleton for his service to our country and his death in its service, whatever the motive may have been. He may not have felt it, he may not have lived it, and he may have died because others didn't believe it, but he is a stark reminder of what we aspire to in our country, that all men are created equal.
Meet the Quarterback
Naomi Zikmund-Fisher

is a clinical social worker, former school Principal and a Crisis Consultant for schools and community organizations. You can learn more about her at www.SchoolCrisisConsultant.com
View my complete profile

Contact the Quarterback

Blog Archive