Friday, September 11, 2009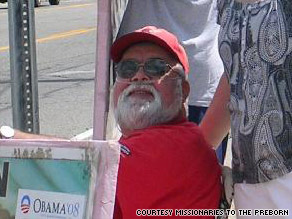 James Pouillon, age 63,
was murdered today
across the street from the high school in Owosso, MI.  The same shooter allegedly also killed the owner of a local gravel pit, Mike Fuoss, 61.  You've probably never heard of Owosso -- it's about an hour and a half from my house and I had never heard of it.  You also probably have never heard of James Pouillon, although my understanding is that if you were from Owosso you probably would have. 
James Pouillon was a prominent and vocal anti-abortion activist.  He frequently stood near the High School holding graphic pictures of fetuses.  Police say that the shooter was offended by material he had been displaying this week.
When you do a response to a traumatic event, you have to commit to leaving your politics at the door.  A traumatized person is a traumatized person, and whether you agree with their politics or their life choices or whatever else has to be irrelevant.  I have done interventions with people who talked about how only members of their religion were going to heaven, and the rest of us were going to hell.  I have worked with people who drank to excess and did drugs and were irresponsible about their lives.  I have helped teenagers who were clearly trying to provoke the adults by talking on their cell phones and chewing tobacco during a debriefing.  And really, I didn't have much trouble with those.
But everyone has events that they should not be responding to.  Sometimes, it's the nature of the incident that is the issue.  I know tremendously well-respected responders who simply will not respond to the death of children, because they find it too upsetting.  An event that is too close to a trauma in the responder's own life can be too much.  Sometimes, you're just plain burnt out.
Then there are events that you cannot respond to because you know you will not show the level of compassion that the traumatized people deserve.  I absolutely believe that the family and friends of James Pouillon, as well as those who witnessed his murder, deserve the best crisis intervention out there.  But I have to be honest and say that I could not do this response.  As someone who has volunteered to assist at abortion clinics, tangled with anti-abortion protesters, and has a family member who worked at a clinic where people were murdered by an anti-abortion activist, I do not believe I could put that to the side to work with this family.  Knowing what he was doing when he was killed and having to in any way validate that would be too difficult for me.
Part of being a good responder is knowing when to say no.  I would much rather have a team member bow out then sit down with a victim and judge them, say something inappropriate or break down crying.  I would also much prefer it if I could muster the needed skills to be helpful in a situation such as this one.  But I know my limitations, and I have to honor mine as much as I honor others.  This one, I would have to refer to someone else.  I hope there's a team in Owosso more prepared to deal than I.
Meet the Quarterback
Naomi Zikmund-Fisher

is a clinical social worker, former school Principal and a Crisis Consultant for schools and community organizations. You can learn more about her at www.SchoolCrisisConsultant.com
View my complete profile

Contact the Quarterback

Blog Archive