Monday, June 20, 2011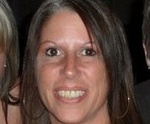 Last week, word filtered out through what is left of the media here in Ann Arbor, Michigan, that police were looking for a woman from Pittsfield Township named Dawn Fital. Pittsfield is the township just southeast of Ann Arbor, between Ann Arbor and Ypsilanti. Like many areas around here, the homicide rate is incredibly tiny. The
Michigan State Police
searchable database for 2006 (the most recent year included) shows that there were no homicides. In 2009 (the most recent year for county-wide statistics) there were 9 homicides in the entire county.
At any rate,
Dawn Fital went missing
on Monday from the apartment she shared with her boyfriend and ex-husband. Police in Indiana picked up her boyfriend on Tuesday after he was spotted digging a hole behind a bank, and he apparently told him he had killed his girlfriend. Her body was found on Thursday in a pond near where the boyfriend was arrested. He has been charged with open murder.
Over the four days between when this story first hit the news on Wednesday and the arraignment on Saturday, there were approximately 12 stories in our local news outlet about it. As much as I'd like to tell you that that's because we are all so stunned that anyone would be killed in our neck of the woods, and while that is not completely irrelevant, I think it is incomplete.
Dawn Fital, a White woman, was allegedly murdered in her own home by someone she lived with, a White man. She was not a criminal, a drug dealer, or a gang banger (and yes, we do have those in Washtenaw County as well). She was not African-American, and she was not male. She was not "supposed" to be a homicide victim around here.
But think about that for a moment. Because if Dawn Fital was not "supposed" to be murdered, that implies that someone else was. The fact that Fital does not meet the typical statistical profile of a homicide victim may be notable, but it should not make her death more important than that of any other person. Everyone who is murdered has a family and friends. Everyone is a human being.
The thing that strikes me -- or perhaps triggers me -- about Dawn Fital's death is that I can count on one hand the number of female homicide victims in Washtenaw County in the 9 years I have lived here. Every one of them was a victim of domestic violence. So in that sense, I guess Fital does fit the profile. The problem is the existence of the profile, and a society that in any way condones a pattern where Black men are disposable as victims of violence in general, and women are disposable as victims of violence by their partners.
Meet the Quarterback
Naomi Zikmund-Fisher

is a clinical social worker, former school Principal and a Crisis Consultant for schools and community organizations. You can learn more about her at www.SchoolCrisisConsultant.com
View my complete profile

Contact the Quarterback

Blog Archive